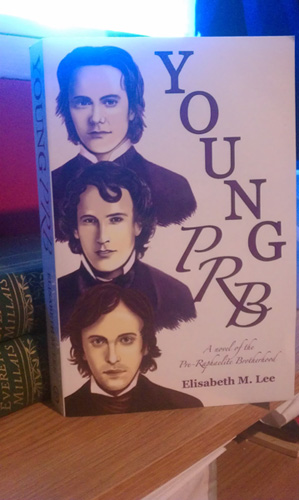 My compliments to Elisabeth M.Lee.  To write a novelization of the early days of the Brotherhood must be an arduous task.  The Pre-Raphaelites are complicated, there is so much going on that there is a danger of the tale becoming muddied and all of the scintillating bits could overtake the narrative.  This book is not only true to the facts surrounding the formation of the Pre-Raphaelite Brotherhood, but it focuses on their intentions and their artistic integrity (something the recent miniseries, Desperate Romantics, failed to do).
'Young PRB' is about the earliest phase of Pre-Raphaelitism,  beginning with William Holman Hunt and John Everett Millais at the Royal Academy Summer Exhibition of 1846 and ending with Hunt embarking on his trip to the Holy Land.  Lee follows the founding members of the Brotherhood chronologically and -to her credit- emphasizes their artistic ambitions and goals.
I feel protective towards Elizabeth Siddal and how she is portrayed.  So I am proud to report to you that I am quite pleased with how Elisabeth Lee has shared Lizzie's part of the story.  Written with respect and feeling, her account of Lizzie is one of a young Victorian girl who is intelligent and curious about the art world she has entered and develops her own ambitions.  Well done.
Publisher's Synopsis:
William Holman Hunt wants his own revolution. In the year 1848 Europe erupts in turmoil, but Hunt is an art student, with many dreams and limited funds, in a London where revolution is just not done – especially one against the art establishment.

Hunt, along with six friends and fellow students – including the prodigy John Everett Millais and the artist-poet Dante Gabriel Rossetti – proclaim themselves the Pre-Raphaelite Brotherhood (PRB). They plan to display their new art at the most prestigious exhibition in the country: The Royal Academy of Art.

They were expecting criticism, praise, or even ambivalence. What they were not expecting was the violent abuse hurled at them by the art elite, journalists, and even Charles Dickens. The stale and stodgy art world of mid-Victorian London will not tolerate these upstarts. The defiant PRB will not back down. Now it really is a revolution.

Can the young PRB survive the attacks against them? Can their friendship survive growing up?
Visit Elisabeth M. Lee's website:  youngprb.com
On Amazon.com: Young PRB: A Novel of the Pre-Raphaelite Brotherhood