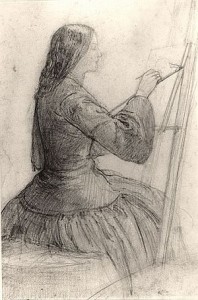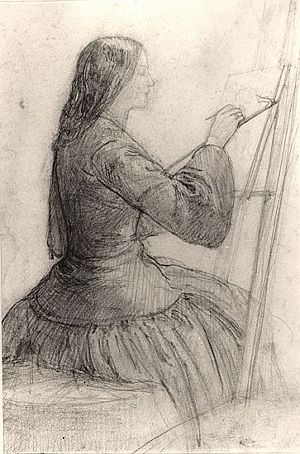 While working in a millinery shop, Lizzie was discovered by the artist Walter Deverell, who painted her as Viola in his depiction of Shakespeare's Twelfth Night. Lizzie went on to model for other Pre-Raphaelite artists and is most commonly recognized as Ophelia in the painting by John Everett Millais.
It was the charismatic Dante Gabriel Rossetti who not only drew and painted her obsessively, but encouraged Lizzie in her own artwork and poetry. Their relationship was intense and rocky, with an informal engagement that lasted on and off for a decade.
Sadly, their marriage was short. The couple suffered a stillborn daughter and Lizzie was addicted to laudanum. She died in 1862 due to an overdose.
The rest of Lizzie's tale is famous for its macabre nature: in his grief, Gabriel buried his only manuscript of his poems with Lizzie. The poems, nestled in her coffin next her famous copper hair, haunted him. Seven years later, he had her coffin exhumed in order to retrieve the poems for publication.
The story was spread that Lizzie was still in beautiful, pristine condition and that her flaming hair had continued to grow after death, filling the coffin. This, of course, is a biological impossibility. Cellular growth does not occur after death, but the tale has added to Lizzie's legend and continues to capture the interest of Pre-Raphaelite and Lizzie Siddal enthusiasts.
Unfortunately for Elizabeth Siddal, she lived in a time where addiction was a taboo subject and little was known about post-partum depression. She lived within a cycle of illness, addiction, and grief with no useful resources available to her. Although she pursued a creative outlet while most women were denied modes of self expression, Lizzie was never able to move beyond the addiction that claimed her life.
Elizabeth Siddal's paintings and drawings