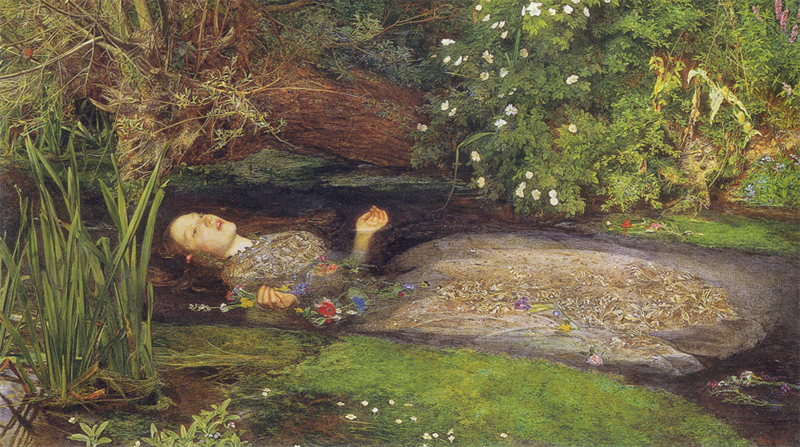 Elizabeth Siddal has become so associated with the character of Ophelia that perhaps we now treat her as if she is Ophelia. It is hard not to draw parallels: the golden Pre-Raphaelite Stunner falling prey to illness as she becomes Ophelia.  Ophelia loses her father, Lizzie her stillborn child.  Ophelia, overwhelmed with grief and madness, sings strange songs while those around her seem unsure of what to do.  Lizzie rocks an empty cradle, urging others to be quiet so as not to wake the baby that is not there.  Ophelia drowns, Lizzie overdoses.  Finally, Hamlet leaps into Ophelia's grave.  Rossetti exhumes Lizzie's grave.
It's all so deliciously Shakespearean.
But, I'd like to set the subject of Lizzie aside and look at the painting itself.  I can think of no better source than The Life and Letters of Sir John Everett Millais, published in 1899 by his son: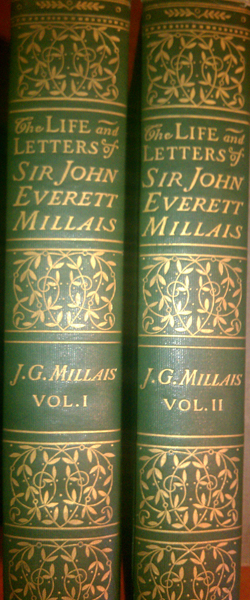 The text below is transcribed from Volume I of The Life and Letters of Sir John Everett Millais:
Miss Siddal had a trying experience whilst acting as a model for "Ophelia".  In order that the artist might get the proper set of the garments in water and the right atmosphere and aqueous effects, she had to lie in a large bath filled with water, which was kept at an even temperature by lamps placed beneath.  One day, just as the picture was nearly finished, the lamps went out unnoticed by the artist, who was so intensely absorbed in his work that he thought of nothing else, and the poor lady was kept floating in the cold water till she was quite benumbed.  She herself never complained of this, but the result was that she contracted a severe cold, and her father (an auctioneer at Oxford) wrote to Millais, threatening him with an action for £50 damages for his carelessness.  Eventually the matter was satisfactorily compromised.  Millais paid the doctor's bill; and Miss Siddal, quickly recovering, was none the worse for her cold bath.
D.G. Rossetti had already fallen in love with her, struck with her "unworldy simplicity and purity of aspect" –qualities which, as those who knew her bear witness, Millais succeeded in conveying to the canvas — but it was not until 1860 that they married.
"Ophelia" in later years
About the year 1873, "Ophelia" was exhibited at South Kensington; and Millais, going one day to have a look at it noticed at once that several of the colours he had used in 1851 had gone wrong — notably the vivid green in the water-weed and the colouring of the face of the figure.  He therefore had the picture back in his studio, and in a short time made it bloom again, as we see it to-day, as great triumphs of his Pre-Raphaelite days.  The colour, substance, and surface of his pictures have remained as perfect as the day they were put on.
Perhaps the greatest compliment ever paid to "Ophelia" as regards to its truthfulness to Nature, is the fact that a certain Professor of Botony, being unable to take his class into the country and lecture from the objects before him, took them to the Guildhall, where this work was being exhibited, and discoursed to them upon the flowers and plants before them, which were, he said, as instructive as Nature herself.
Mr. Spielman is enthusiastic in his praise of the picture.  He speaks of it as "one of the greatest of Millais' conceptions, as well as one of the most marvellously and completely accurate and elaborate studies of Nature ever made by the hand of man….The robin whistles on the branch, while the distraught Ophelia sings her own death-dirge, just as she sinks beneath the water with eyes wide open, unconscious of the danger and all else.  It is one of the proofs of the greatness of this picture that, despite all elaboration, less worthy still superb of execution, the brilliancy of colour, diligence of microscopic research, and masterly handling, it is Ophelia's face that holds the spectator, rivets his attention, and stirs emotion."
The picture passed successively through the hands of Mr. Farrer, Mr. B. Windus, and Mr. Fuller Maitland, before it came into the possession of Mr. Henry Tate, to whose generosity the public are indebted for its addition to the National Gallery of Art.  It was exceedingly well engraved by Mr. I. Stevenson in 1866.
In the 1852 Exhibition, when both the "Ophelia" and "The Huguenot" were exhibited, there was another beautiful "Ophelia" by Millais' friend, Arthur Hughes, who is good enough to send me the following note about the two pictures:
"One of the nicest things that I remember is connected with an "Ophelia" I painted, that was exhibited in the Academy at the same time as his [Millais'] own most beautiful and wonderful picture of that subject.  Mine met its fate high up in the little octagon room*; but on the morning of the varnishing, as I was going through the first room, before I knew where I was, Millais met me, saying, 'Aren't you he they call Cherry?' (my name in the school).  I said I was.  Then he said he had just been up a ladder looking at my picture, there, but adding also very truly that I had not painted the right kind of stream.  He had just passed out of the Schools when I began in them, and I had a most enormous admiration for him, and he always looked so beautiful — tall, slender, but strong, crowned with an ideal head, and (as Rossetti said) 'with the face of an angel'.  He could not have done a kinder thing, for he knew I should be disappointed at the place my picture had."
*Commonly known to artists as "The Condemned Cell"
—–
NOTE: The text above refers to Lizzie's father as an auctioneer in Oxford.  There have been several different descriptions of Charles Siddall's occupation, but I believe him to have been a cutler, as described in both Pre-Raphaelite Sisterhood by Jan Marsh and Lizzie Siddal: Tragedy of a Pre-Raphaelite Supermodel by Lucinda Hawksley.