Elizabeth Siddal's first job as an artist's model was for Twelfth Night by Walter Deverell.  Lizzie appears on the left.  Dante Gabriel Rossetti appears on the far right, although they were not involved at this time.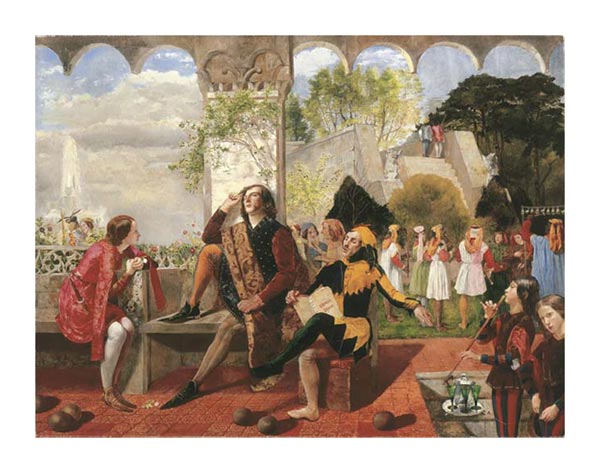 Twelfth Night, by Walter Howell Deverell
Twelfth Night, Act II Scene IV
Give me some music. Now, good morrow, friends.
Now, good Cesario, but that piece of song,
That old and antique song we heard last night:
Methought it did relieve my passion much,
More than light airs and recollected terms
Of these most brisk and giddy-paced times:
Come, but one verse. . . .
O, fellow, come, the song we had last night.
Mark it, Cesario, it is old and plain;
The spinsters and the knitters in the sun
And the free maids that weave their thread with bones
Do use to chant it: it is silly sooth,
And dallies with the innocence of love,
Like the old age.