I'd love for you to read along with me as I start my latest selection for the Pre-Raphaelite Reading Project.  The current book is La Morte d'Arthur by Sir Thomas Malory.  Read along at your own pace and feel free to participate by commenting at Pre-Raphaelite Sisterhood or at the Pre-Raphaelite Sisterhood Facebook page.  You can also post on Twitter using the #preraphaelitereading hastag. (I'm on Twitter as @beguilingmerlin.)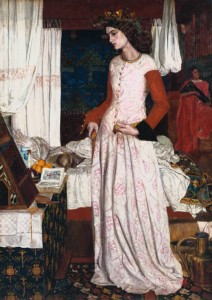 We all know the Arthurian tales, they are embedded in our culture.  Every few years it seems as if Hollywood gives us a slick new version of Camelot.  Authors return to the legends for inspiration.  Musicians lyrically recant their interpretations of the saga.  It goes on and on.
So, while the stories of King Arthur and his knights are familiar, I propose that we revisit them, study them, and ponder the works that they inspired.  Try to see them with new eyes, from a different perspective.  The Pre-Raphaelites were living on the dawn of a new era, the Industrial Revolution.  They were surrounded by modern advances and yet they hearkened back to the age of chivalry and yearned for the medieval.  Let's immerse ourselves in La Morte d'Arthur and discuss the Pre-Raphaelite works that stem from it.  Many of those works are already on Pre-Raphaelite Sisterhood  in previous posts, but this will give me a chance to perhaps add new depth and understanding through my reading project.