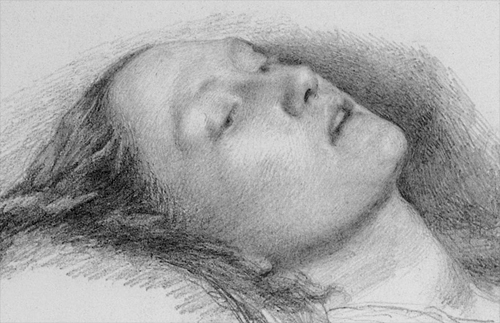 Here is a study of Lizzie as Ophelia, drawn by Millais.   William Michael Rossetti described the painting of Ophelia as perhaps the best likeness of Lizzie.  I've always loved the painting of Ophelia, not just because of Lizzie, but because of the painter's meticulous attention to detail.  The flowers, the ballooning of that heavy dress in the water…the entire painting is perfectly executed.
I wonder how Lizzie herself felt about the painting, especially after her ordeal as she posed, floating in the water as the oil lamps went out one by one. The water gradually turns from comfortable to lukewarm to icy cold.  Yet Lizzie behaved in a responsible manner, true to her profession as an artist's model.  She never said a word and remained in that cold water wearing an old, musty gown while Millais continued to work.  Bravo Lizzie.
What do you think of Lizzie as Ophelia?  It seems as if the tale of her posing for it added to her legend.  She is so widely known for this painting and for her death and exhumation that other aspects of her life can be overshadowed.