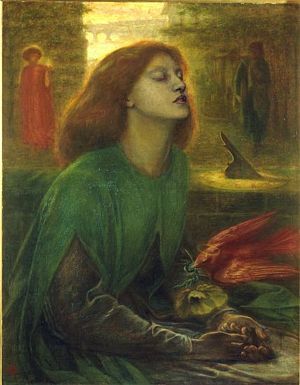 Rossetti painted Beata Beatrix after Elizabeth Siddal's death.  Although studies had been done before Lizzie died, the work is mainly posthumous and is considered to be a memorial tribute to the artist's wife.  Beata Beatrix is one of Rossetti's finest masterpieces and is filled with symbolism.  I am currently reading The Hidden Life of Art, which quotes Oscar Wilde on the interior dustjacket flap:  "All art is at once surface and symbol. Those who go beneath the surface do so at their own peril."  I think we must risk the peril and dive beneath the surface. I invite your comments.
Dante Gabriel Rossetti always identified with Dante Alighieri, so it was perfectly natural to cast Lizzie as Dante's love Beatrice.  As always, his view of Lizzie is as an extension of his own experience.  Dante is his lifelong obsession, so Lizzie must be Beatrice.
How peaceful she looks.  Is she in prayer?  Meditation?  A state of bliss as she transitions from the earthly world to a heavenly one?  Or is this state we see in her face and in her posture reminiscent of Lizzie in a drugged state?  Gabriel must have seen her under the influence of laudanum.  Is this how she appeared to him?  And is this his way of seeing her in a different light,  forever changing her drugged high to a religious one with this painting.
This marks the second time Elizabeth Siddal  is painted or portrayed in death (or at least close to death).  In Ophelia, her hands lay open as she floats along the water.  Open, but welcoming nothing.  There is a vacancy. Here again, in Beata Beatrix her hands are open. Open and ready to welcome the poppies that the Dove (red, the color of love) is bringing her.  Poppies – whose seeds are the source of Opium without which, Lizzie could not have had her laudanum.
In the background, we see the figures of Love and Death.  We also see a sundial, with the shadow on the number nine.  In later versions of Beata Beatrix, Rossetti painted the figures on the background with much more detail but changed the face of Beatrice a great deal.  Also, the color of the dove has changed from red to white while the poppies were changed from white to red.  (see here)
Here is a study of Lizzie as Beata Beatrix at The Rossetti Archive
Original Beata Beatrix at The Rossetti Archive
Replica commissioned by William Graham, one of Rossetti's patrons