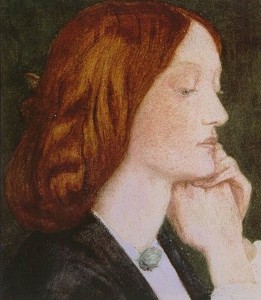 Dim phantoms of an unknown ill
Float through my tired brain;
The unformed visions of my life
Pass by in ghostly train; — taken from Elizabeth Siddal's poem A Year and A Day
There is no hope of my knowing what 'unformed visions' of Lizzie's life could have possibly passed by in 'ghostly train' before her. Some aspects of her life we will never fully know. While I may not ever be able to fill in the gaps, I've not yet reached a point where I have lost interest in pursuing Elizabeth Siddal and chronicling information about her here at LizzieSiddal.com. This site is my journey.
It is a journey that I started alone, but over the past fourteen years of this online project,  I have discovered fellow travelers. So while I dedicate my time to these pages, this is not solely my site. It is here for all of us who have been captivated by Elizabeth Siddal, for those of us compelled to search, to read, to follow paths that will somehow help us to understand. We are what I like to call 'Elizabeth Siddal enthusiasts'. You're probably one too.
But in case you're not:
Elizabeth Who? Elizabeth Siddal started out as an artist's model who posed for members of the Pre-Raphaelite Brotherhood. She is widely recognized from the Ophelia by Sir John Everett Millais; the story of her posing as Ophelia is as famous as the painting itself. Eventually, she would pose only for Dante Gabriel Rossetti, who encouraged her pursuit of art. He became her mentor and art tutor, he drew her obsessively, and he loved her.
Lizzie developed a reputation for being ill and at some point she became addicted to laudanum. After a ten year on/off relationship, Lizzie and Gabriel married. They suffered the tragedy of a stillborn daughter and in 1862, Lizzie died from a laudanum overdose.
Seven years after her death, Gabriel has her body exhumed so that he could recover the poems he had enclosed in her coffin.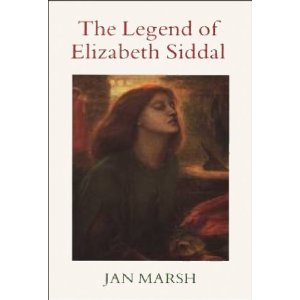 I am thrilled and honored that LizzieSiddal.com received a brief mention in the preface to the second edition of Jan Marsh's The Legend of Elizabeth Siddal.
Of interest:  the most popular page on this site continues to be Photographs of Elizabeth Siddal's Grave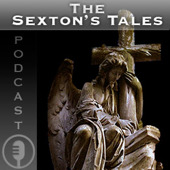 Listen to or Download The Sexton's Tales episode, The Exhumation of Ophelia.  Brilliant dramatization.  MP3 format.  This download is free.