The Sexton's Tales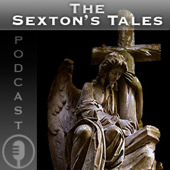 Listen here or Download (32mb and is archived in zip file).  I am grateful to Emlyn Harris for allowing me to share this podcast with you. If  you use iTunes, it is available there as well. The Sexton's Tales series were originally broadcast by the BBC between 1995 and 1997. This episode, narrated by the writer Emlyn Harris, features the tragic life and death of Elizabeth Siddal. Siddal's body was exhumed from London's Highgate Cemetery following a request from her husband Gabriel Dante Rossetti to retrieve a book of poems buried in the coffin.
The Sexton's Tales – Episode 1 Elizabeth Siddal
All Rights Reserved © Emlyn Harris
Written by Emlyn Harris
Music by Emlyn Harris
Dead Interesting Productions
See Dead Interesting Production's other project, the internet tv channel RealCornwall.tv (www.realcornwall.tv). The channel is airing a number of history film documentaries.
Little Journeys
Little Journeys is a series of biographical essays written by Elbert Hubbard (1856-1915) Each volume is thematic and contains several historical figures.  A few titles include Little Journeys to Homes of Great Lovers, Good Men and Great, Famous Women, English Authors, American Statesmen, and more.
From my personal collection, I have scanned portions of Little Journeys that are relevant to the Pre-Raphaelites.  All files are in PDF form.
Great Lovers:  Dante Gabriel Rossetti and Elizabeth Siddal
Handwriting Analysis
I have so much gratitude to my friend Jack Challem for sharing his in-depth analysis of DGR and Elizabeth Siddal's handwriting.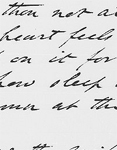 PDF File:  Handwriting Analysis of Dante Gabriel Rossetti and Elizabeth Siddal